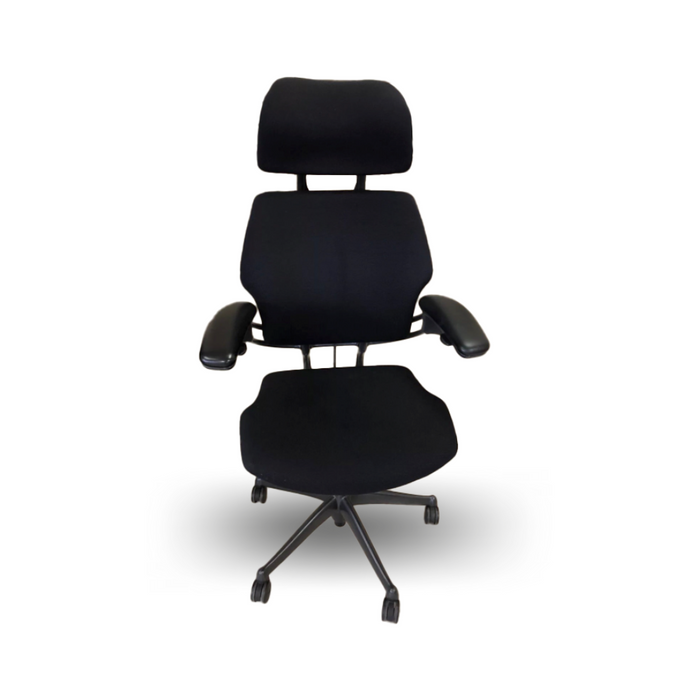 Humanscale Freedom with Headrest
Sold out
Original price
$425.00
-
Original price
$425.00
Used Humanscale Freedom chairs in black with headrest, very minor signs of wear.
Please see photos..
Fully functional and in great condition.. Very nice chair
Freedom Task Chair with Headrest by Humanscale
Technology can makesimple things complicated or complicated things simple. We prefer the latter.
The Freedom chair isdesigned to give the maximum ergonomic benefit to the sitter with a minimumnumber of manually-adjusted controls. Once the chair is fitted, no furtheradjustment is required. The idea is that movement, which is essential for ahealthy body, shouldn't be constricted by locking mechanisms and manualcontrols. In other words, sitting comfortably isn't something you should haveto think about.
Self Adjusting ReclineIntelligent counter-balance recline mechanism automatically provides the rightamount of support through the full range of recline motion, regardless of usersize and weight. No tension springs to adjust, no recline locks to set.
Features: 
• Self-Adjusting Recline - Intelligent counter-balance recline mechanism automatically provides the right amount of support through the full range of recline motion, regardless of user size and weight
• No tension springs to adjust
• No recline locks to set/release
• During recline, the angle between torso and legs opens up for better body function
• Dual Pivot Backrest - Extra motion of the backrest during recline automatically adjusts to the changing needs of the spine
• Provides up to 1" additional lumbar support when needed
• Synchronized Armrests - Revolutionary armrests move in tandem to eliminate the dangers of uneven arm positioning
• Natural lift and release action for immediate repositioning without buttons or locks
• 6" range of vertical motion to accommodate all users and tasks
• Can be positioned below thigh-level for close table or desk work
• Attached to backrest so arms stay in same relation to body during recline
• Dynamic Headrest - Position-sensitive headrest moves into place when you recline and out of the way when you sit upright
• 5" vertical adjustment to fit all users, Moves in the natural arc of head/neck for perfect support through range of recline
• Contoured to cradle the head and neck in comfort
• Standard Hard Casters for carpeted floors (2 1/2" double wheels) 
• Standard Seat Cylinder accomodates 95% of the population
• Cal 133 Approved
Dimensions:
• Overall Size - 27" W x 25" D x 43"-53" H
• Seat Size - 20" W x 21" D
• Seat Height - 16" - 21 1/3" H